Fully equipped tents
Suitable for 5 persons
Children's campsite in Hardenberg
Renting a furnished tent
Would the children like to camp in nature, but do you prefer something more luxurious? Then you can now rent a fully equipped tent - including a lot of conveniences. At Kampeerdorp de Zandstuve, a large and family-friendly campsite in Overijssel, you can stay in luxury rental tents which are ready for you upon arrival. The sturdy canvas tunnel tent gives you the feeling of camping in the open air, but there are a complete kitchen and separate sleeping areas, as well. Sleeping at night in such a beautiful and large tunnel tent is already an adventure, and during the day in the park there are many more adventures for young and old. Thanks to the swimming pools with slides, playgrounds, an indoor play paradise and an enthusiastic entertainment team, the children will never get bored.
De Waard Tenten
Camping in a fully equipped tent is camping without any worries. The 5-person De Waard tent that you can rent at the campsite is already available upon arrival. So you can immediately unpack your things and enjoy your holiday. You have access to a compact kitchen including a fridge and all cooking utensils. There are no fewer than 3 separate sleeping areas with luxury box-spring beds and there is room for a camp bed. It's great to stay in the tent when it's cold outside, too. There is a gas stove, as well as a kitchen table and a television. From the covered terrace, you have a view of the field with playground equipment for the children.
Bekijk de ingerichte tent
➡️ Verblijf t/m 12 september en ontvang 25% korting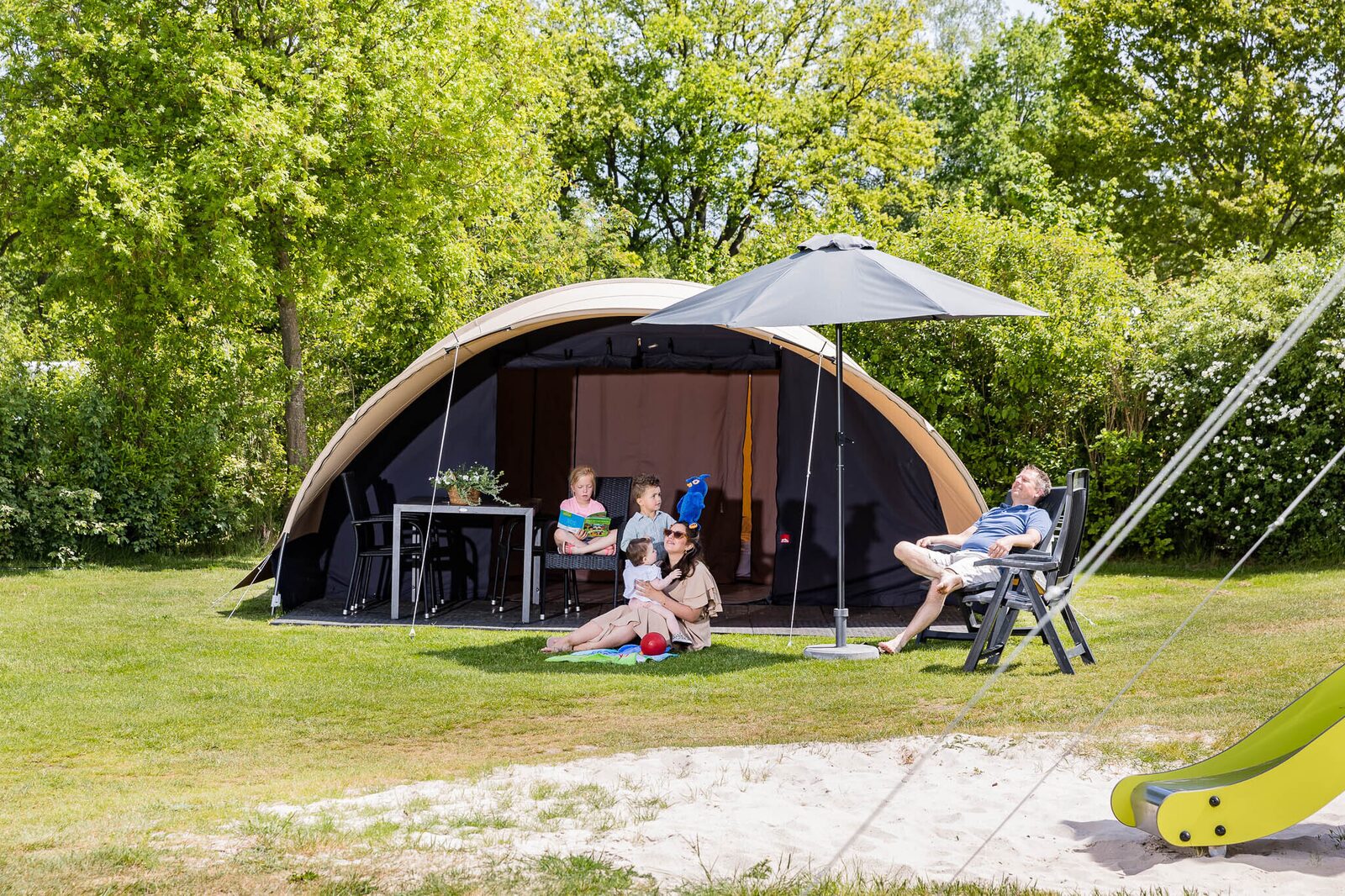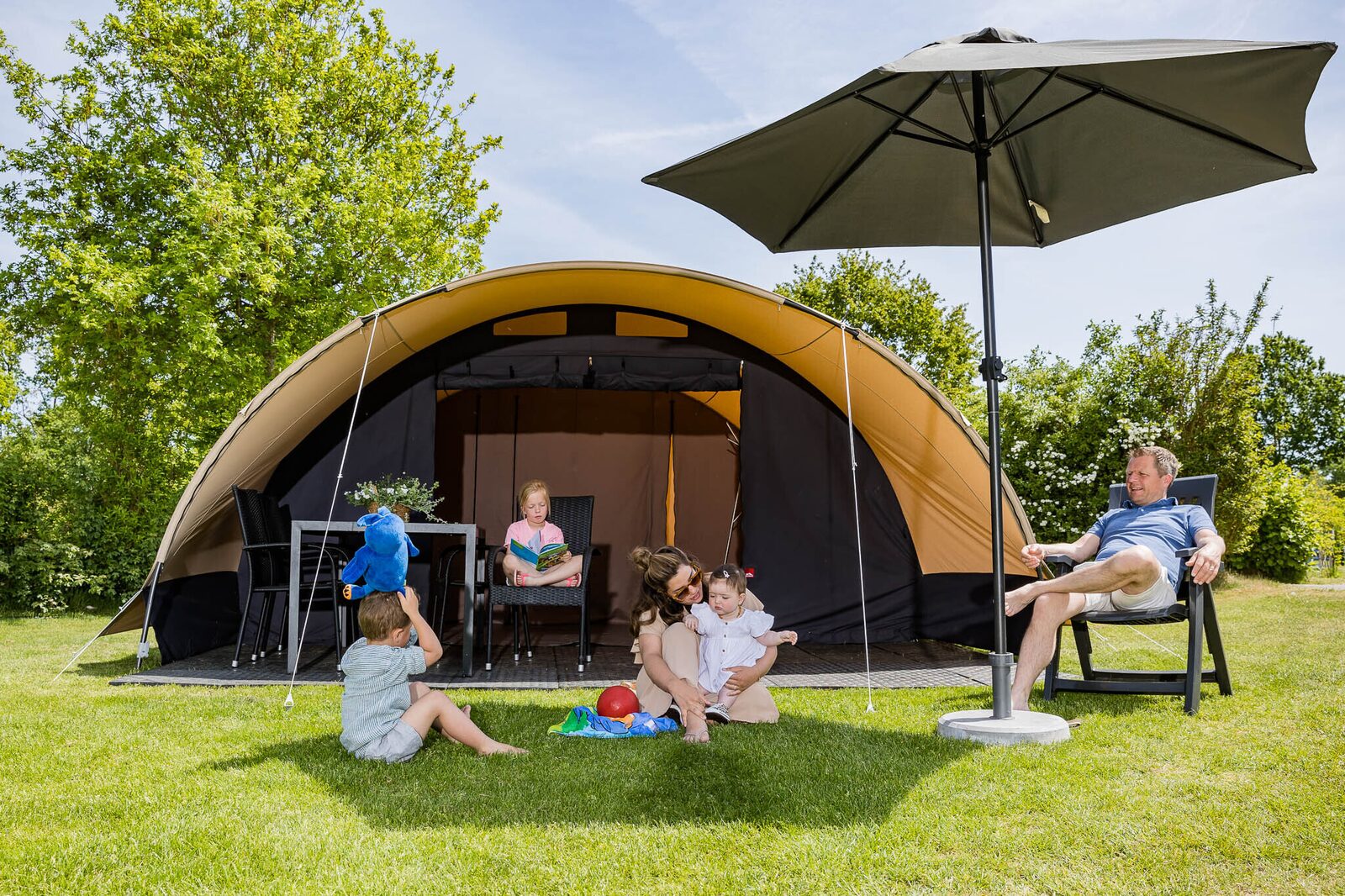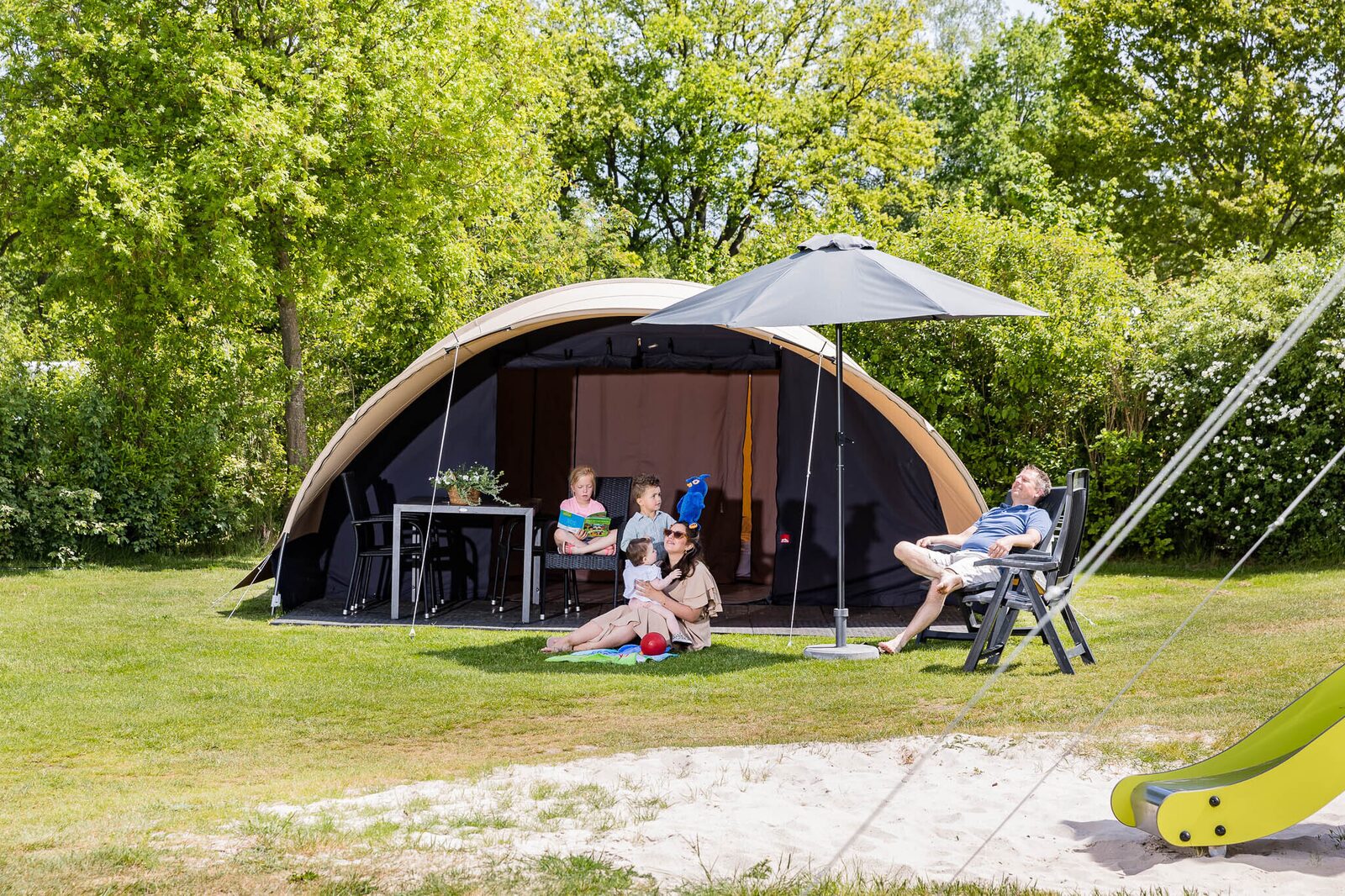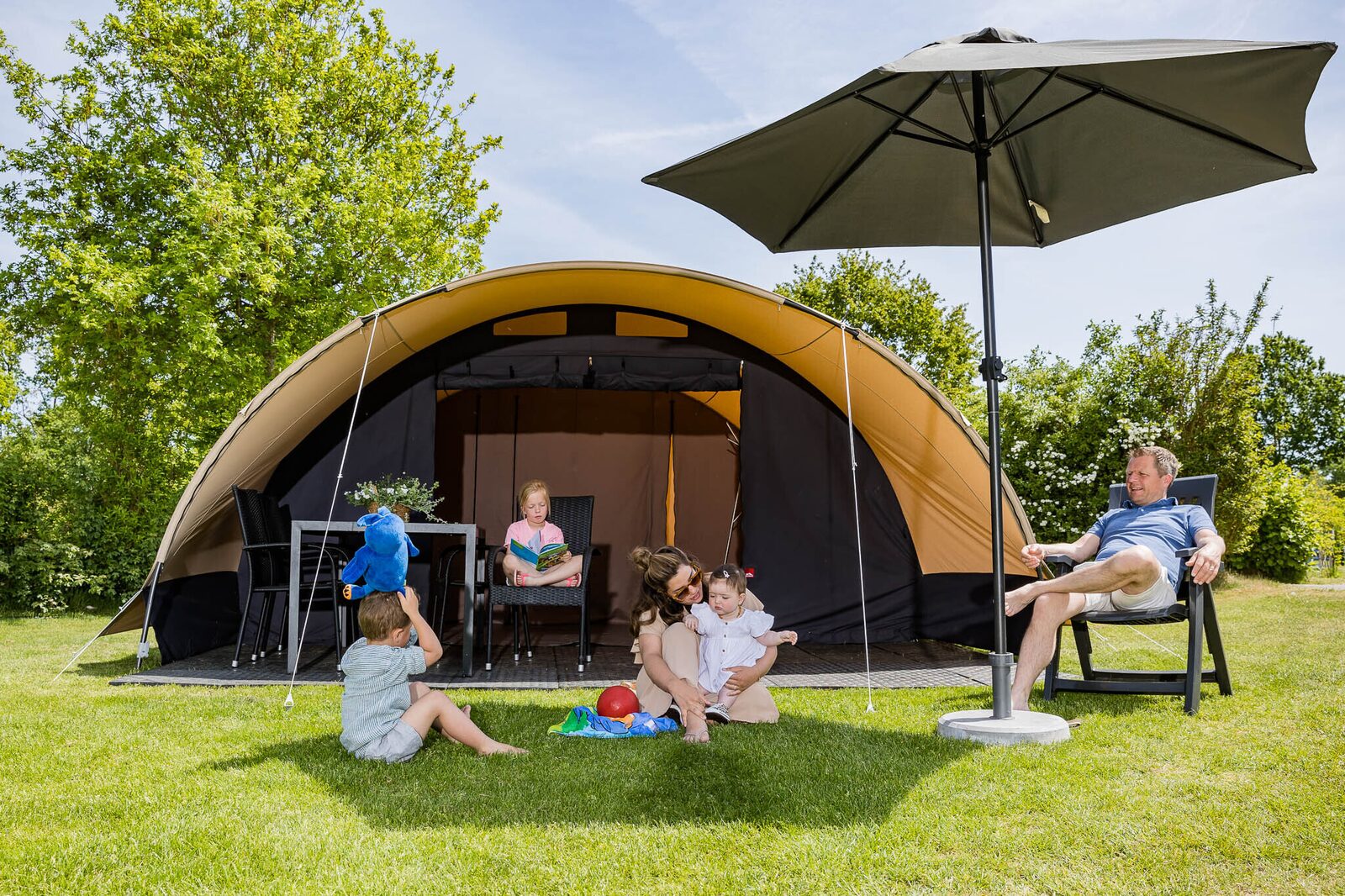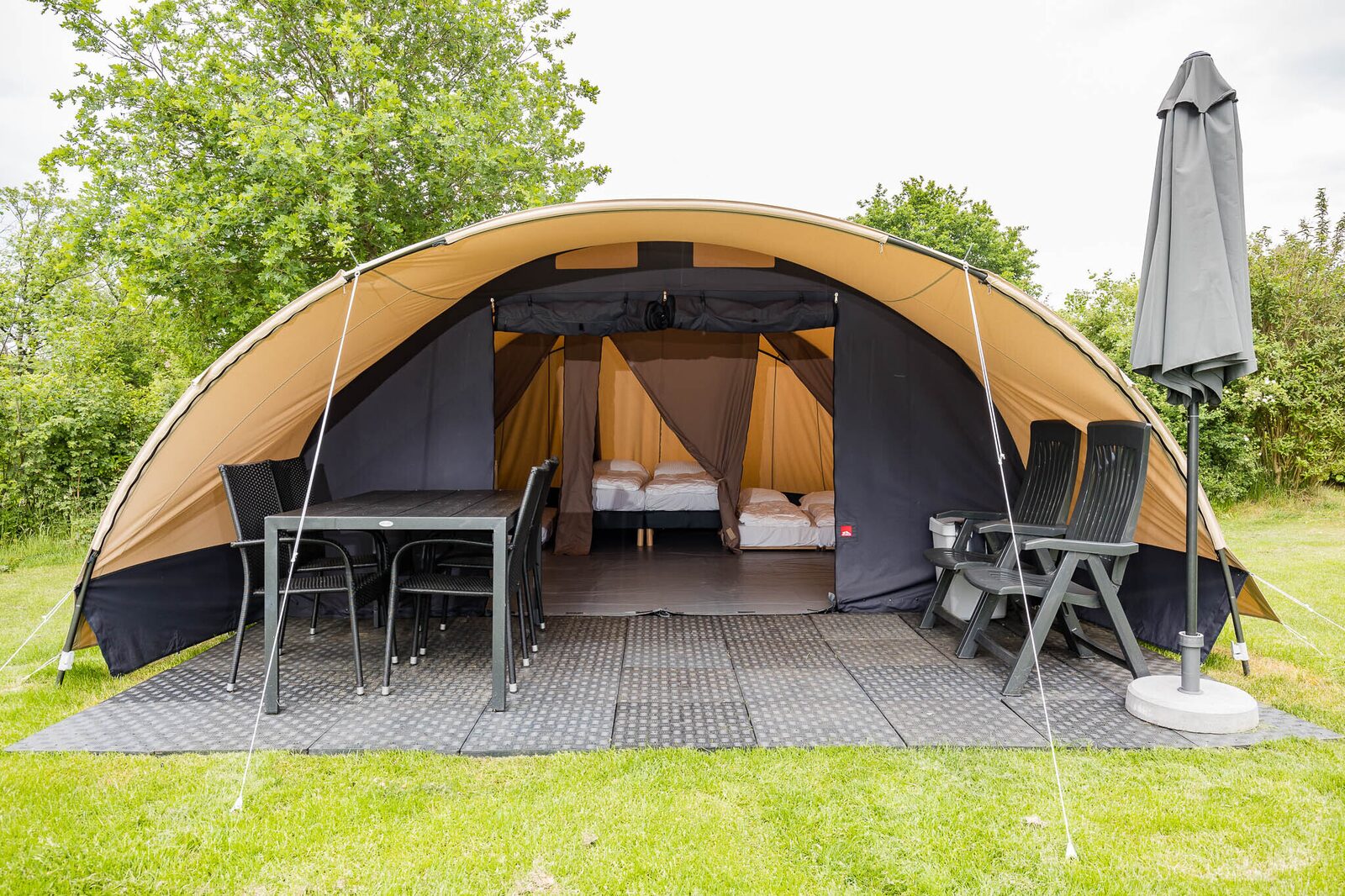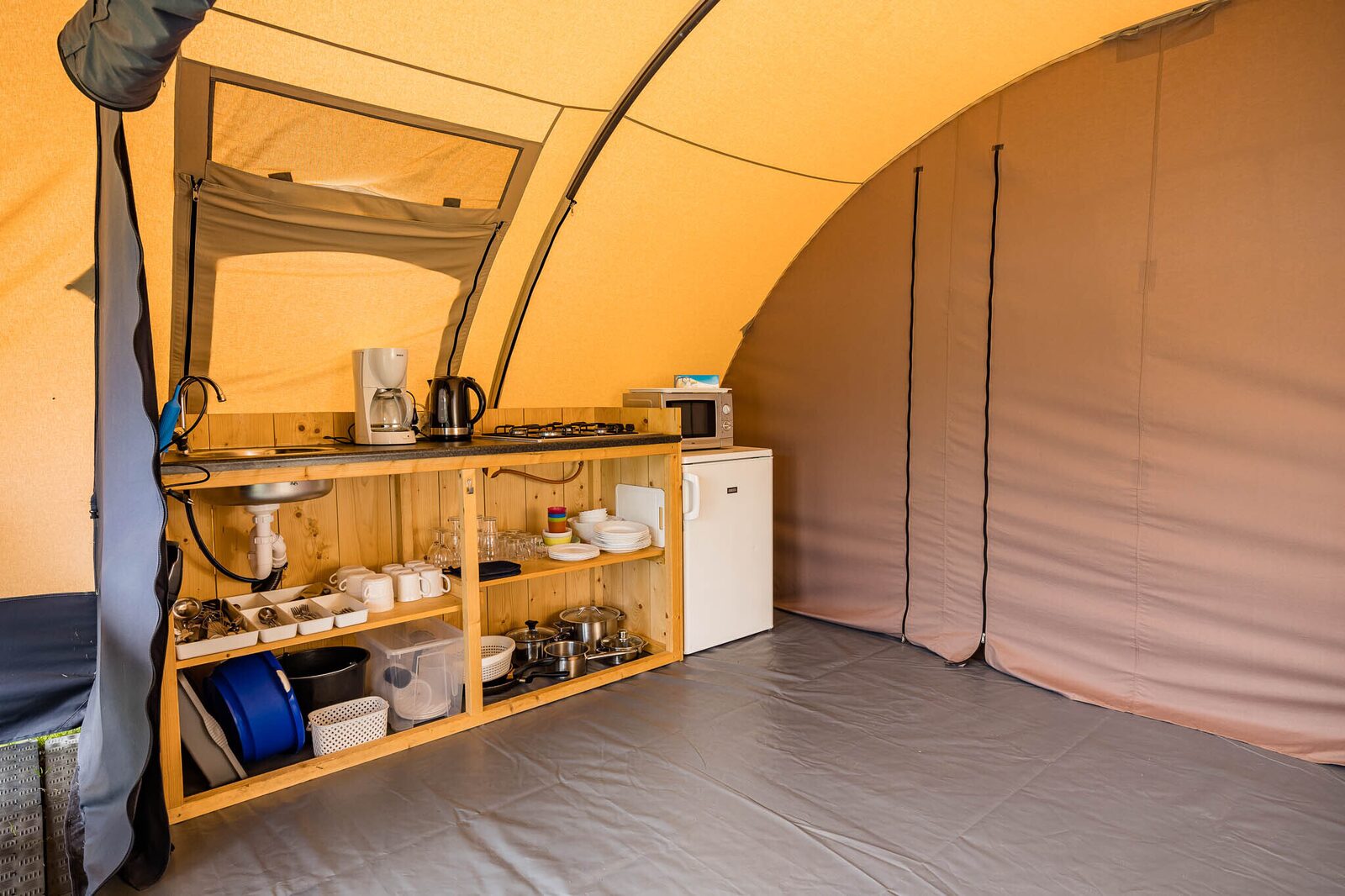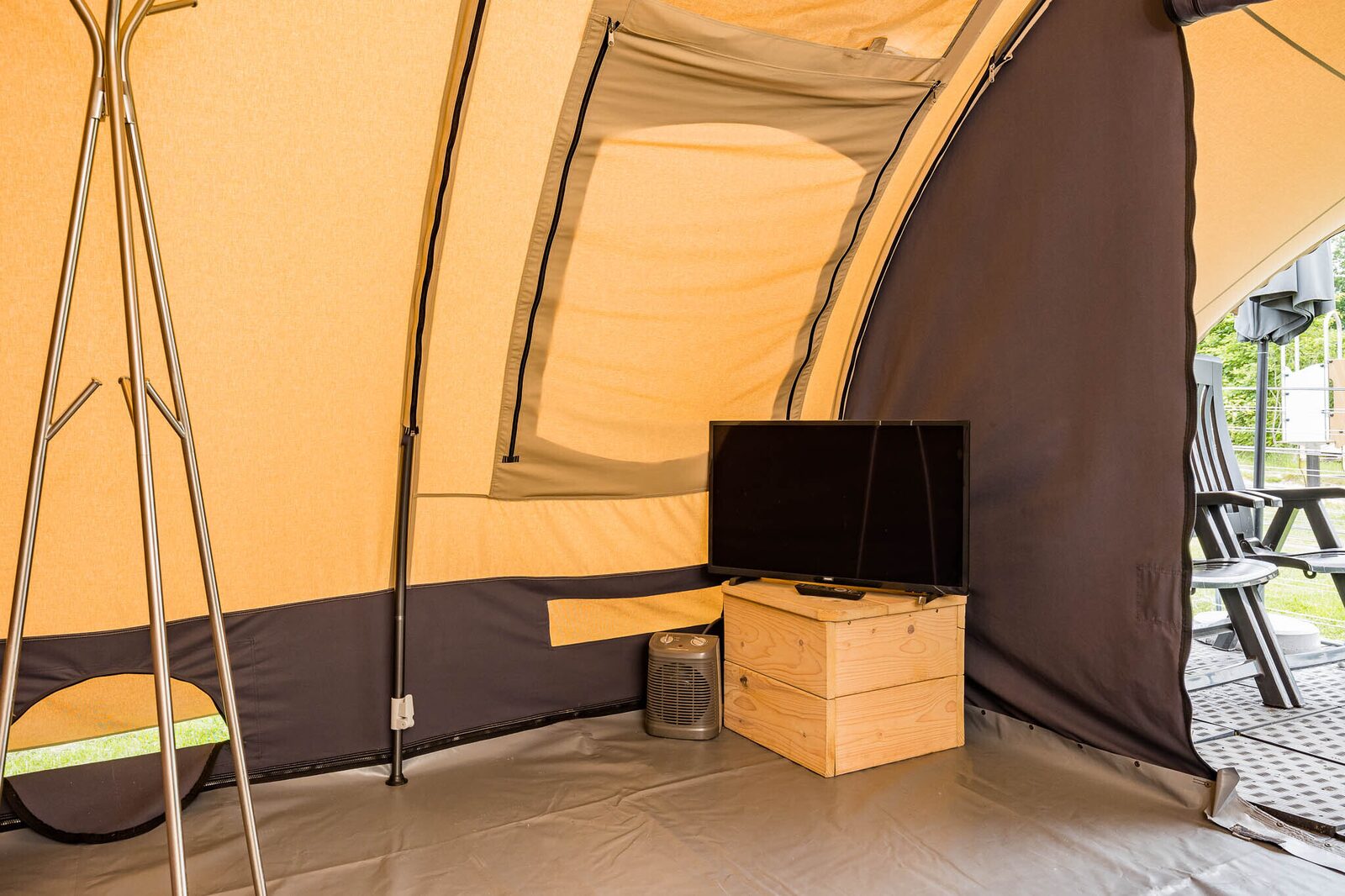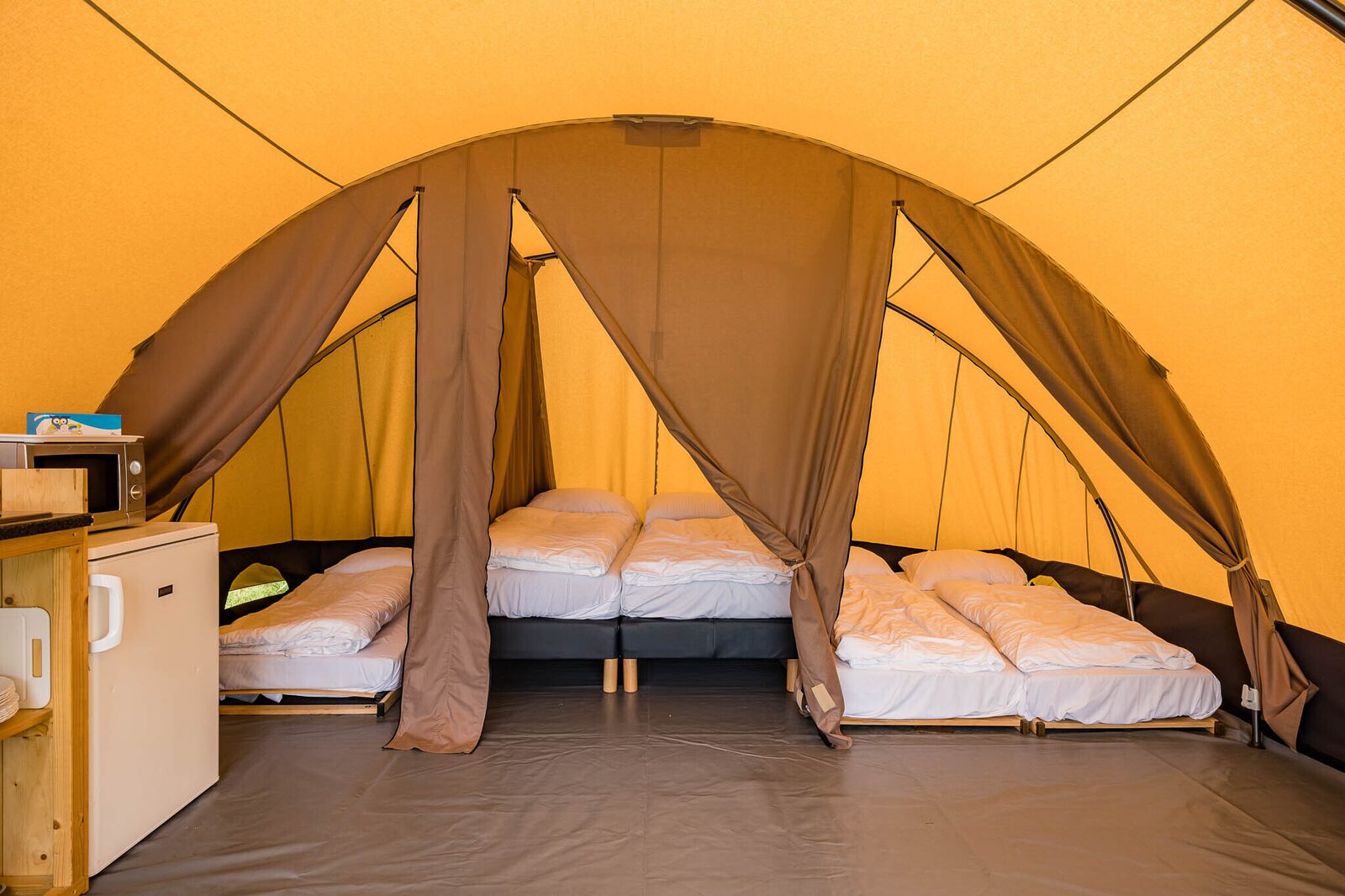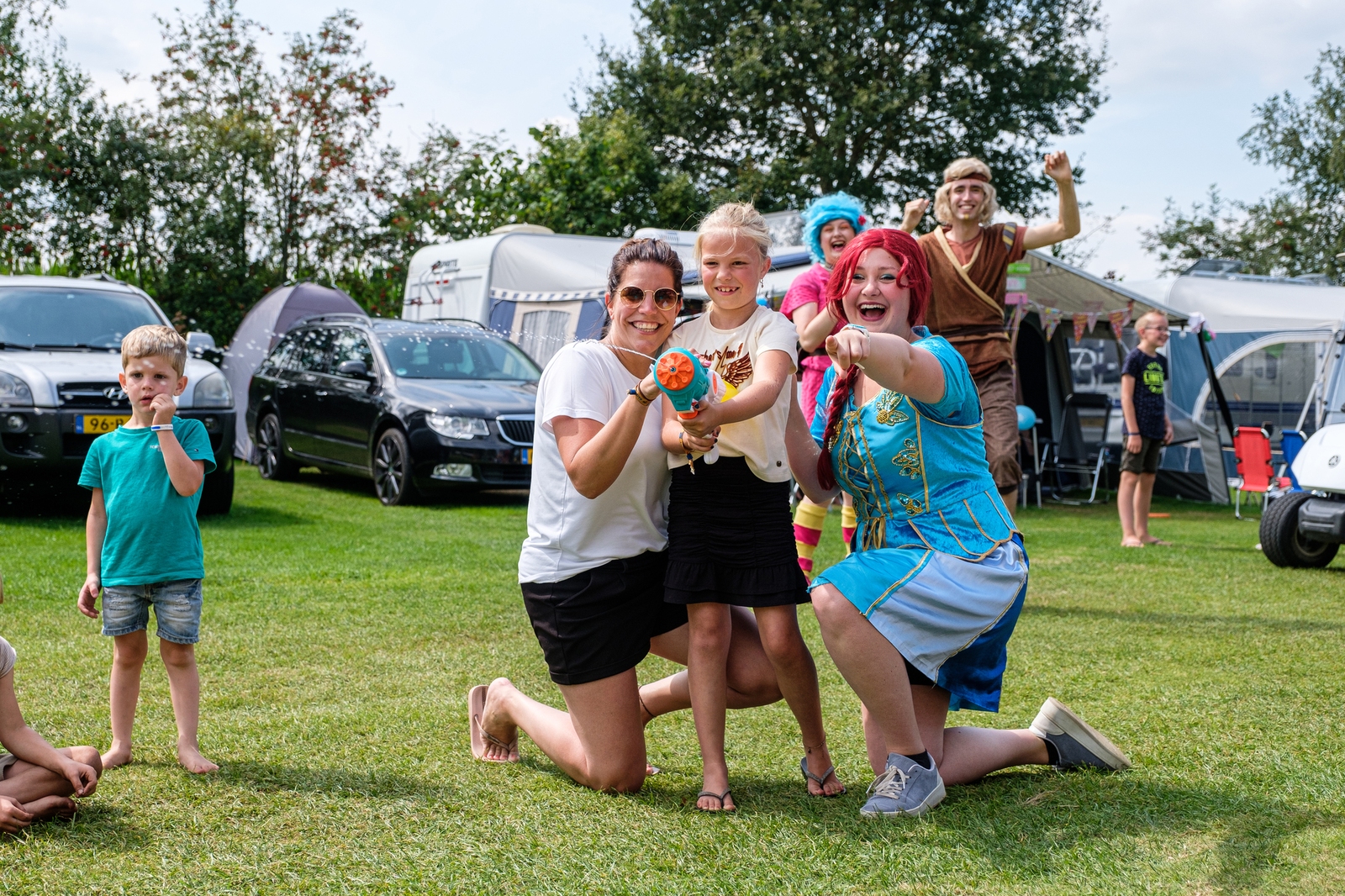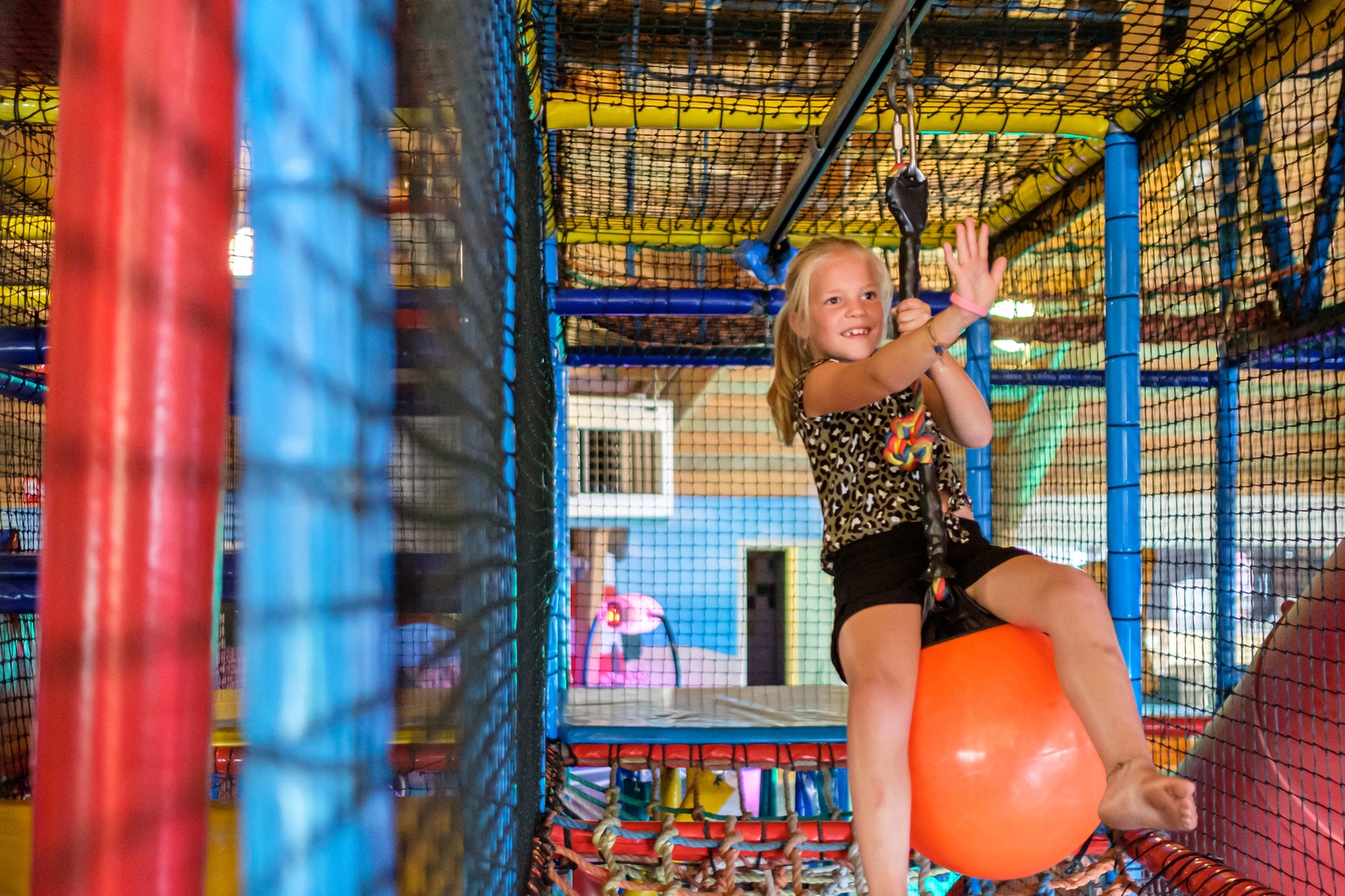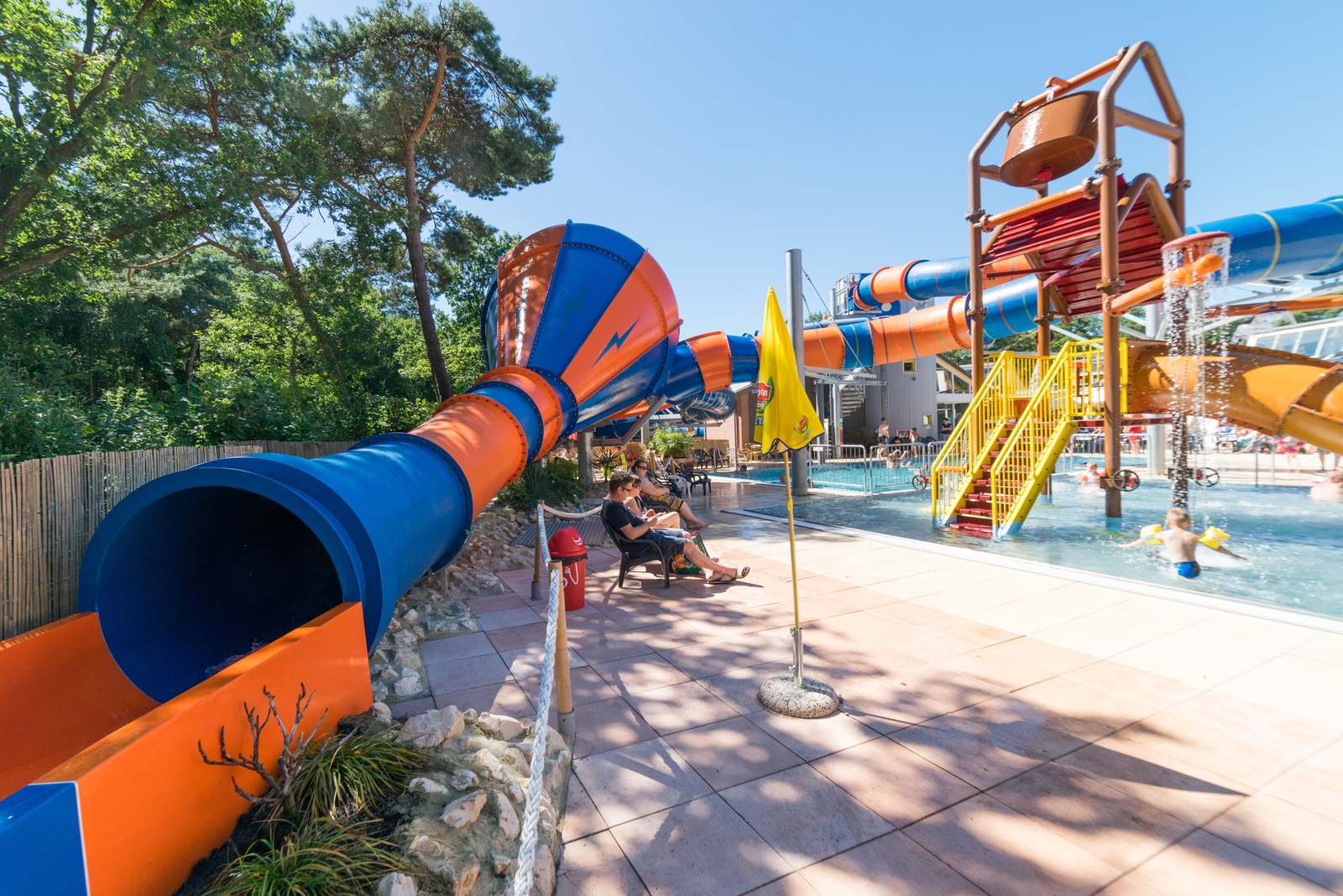 Renting a furnished tent in the Netherlands
Renting a furnished tent in the Netherlands will be the perfect solution if you would like to spend your holiday on a nice campsite, but if you like to enjoy a little more luxury at the same time, too. The tent has so many comforts - you don't have to buy or bring camping equipment. Including a complete kitchen and cooking utensils, luxurious box-spring beds and a flat screen TV, no wishes remain unfulfilled. The modern sanitary facilities of De Zandstuve are within walking distance of your furnished tent. Our children's campsite offers many more facilities. The recreation program is plenty of activities every day (also in the early and late season), a professional animation team takes care of the youngest and water rats have endless fun in the large outdoor pool or the subtropical indoor pool. You won't get bored easily at our holiday park. Our facilities at a glance contain:
Indoor and outdoor pool
Extensive entertainment program
Indoor playground Cobus playing area
More than 30 playgrounds
Various catering facilities
Bicycle and go-kart rental
We offer the possibility to rent a tent at our campsite with all the luxury of home, namely our sturdy safari tents, too! The tents are suitable for 6-8 people, include a fully equipped kitchen and even a private bathroom. You'll experience the real glamping feeling in our safari tents.
Discover Vechtdal, located in the middle of nature
Renting a tent at our campsite in Overijssel is a good idea if you would like a great base for trips in the area, too. Kampeerdorp de Zandstuve is located between Rheeze and Hardenberg, in the middle of nature, in Vechtdal, which is perfect for taking beautiful walks and cycling. Are you looking for a little more excitement and sensation? Theme park Slagharen, Avonturenpark Hellendoorn and Wildlands Adventure Zoo are easy to reach. Or visit the farmer, master a tree trail, discover prehistoric times in the Hunebedcentrum or take a boat through Giethoorn. Enjoy camping in a furnished tent, experience a new adventure every day in the park and in the area.
Booking a furnished tent right now
Our guests rate this accommodation with an average of 9.2.